Locations in Phoenix, Arizona
4740 S. 48th Street
Ste. 107
Phoenix, AZ 85040
Directions
3110 N. Central Ave.
Ste. 106
Phoenix, AZ 85013
Directions
20235 N. Cave Creek Rd.
Ste. 109
Phoenix, AZ 85024
Directions
620 E Roosevelt St
Ste. 124
Phoenix, AZ 85004
Directions
10045 W. Camelback Rd.
Ste. 101
Phoenix, AZ 85037
Directions
7000 N. 16th St.
Ste. 124
Phoenix, AZ 85020
Directions
430 E Bell Road
Ste. 101
Phoenix, AZ 85022
Directions
21001 N. Tatum Blvd.
Ste. 34-1115
Phoenix, AZ 85050
Directions
2814 N. 44th St.
Ste. 100
Phoenix, AZ 85008
Directions
3317 E. Bell Road
Ste. 102
Phoenix, AZ 85032
Directions
2805 W. Agua Fria Fwy.
Ste. 4
Phoenix, AZ 85027
Directions
11 W. Washington St.
Ste. 175
Phoenix, AZ 85003
Directions
1650 E. Camelback Rd.
Ste. 175
Phoenix, AZ 85016
Directions
There are no locations in your search area. Please try a different search area.
Skip link
Lunches, Sandwiches, & Food Delivery Near You in Phoenix | Jimmy John's®
Jimmy John's in Phoenix makes Freaky Fresh Freaky Fast® sandwiches using only the freshest ingredients. Quality is our way of life. That's why we spend six hours slicing and baking every day to make tasty sandwiches in just 30 seconds or less. Our French bread and 9-Grain Wheat bread is baked all day, every day. It's always served less than four hours out of the oven. We use all-natural*, high-quality meats, and we slice and weigh each portion to perfection daily. Our veggies are locally purchased, delivered fresh to Phoenix Jimmy John's stores, and hand-sliced daily. We puree our hot cherry peppers into fresh buttermilk to make Kickin' Ranch® (for your dippin' pleasure), and our homemade tuna salad is made from scratch. Fresh food made from scratch is just how we roll.
The flavor of a ripe tomato and crisp shredded lettuce, combined with fresh-baked bread, fresh-sliced meat and real Hellmann's® mayo – that's when the magic happens. Sandwiches made with love every single day, since 1983.
If you need sandwich delivery, your Phoenix Jimmy John's has you covered. We'll even deliver one sandwich! Just place an online order or order through the Jimmy John's app and we'll bring it to ya. We also offer last-minute catering for any occasion: Mini Jimmys®, Box Lunches and tasty sides. Whether you need catering delivered and or set up or you pick it up – you name it, we'll do it!
If you'd rather pick-up your sandwich, you can always place an online order for pick-up ahead of time.
Support your locally owned Phoenix Jimmy John's today! Stop by or order online at jimmyjohns.com.
*All-Natural means our meats are minimally processed (except for caramel color on roast beef) and contain no artificial ingredients.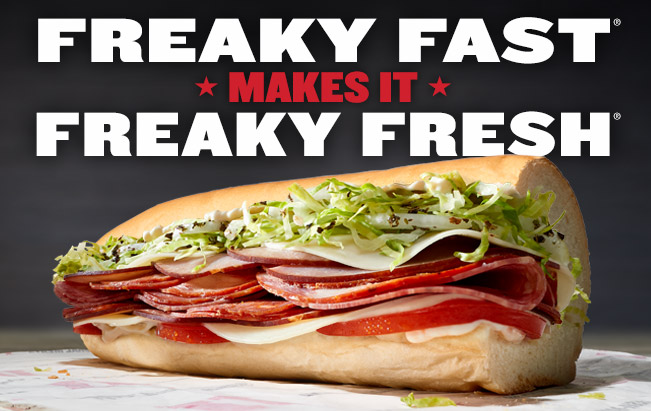 Skip link