Sandwich Delivery in Sullivan
Location Hours
---
Tuesday
10:00am

-

10:00pm
Wednesday
10:00am

-

10:00pm
Thursday
10:00am

-

10:00pm
Saturday
10:00am

-

10:00pm
Drive Thru Hours
---
Tuesday
10:00am

-

10:00pm
Wednesday
10:00am

-

10:00pm
Thursday
10:00am

-

10:00pm
Saturday
10:00am

-

10:00pm
Delivery Hours
---
Tuesday
10:00am

-

10:00pm
Wednesday
10:00am

-

10:00pm
Thursday
10:00am

-

10:00pm
Saturday
10:00am

-

10:00pm
Skip link
Jimmy John's Delivery in Sullivan, Missouri
Jimmy John's has food delivery near you in Sullivan covered! Check out our menu of 8" and 16" Favorite, Original and Slim subs, and our snack-sized Little Johns. Plus, tasty sides, like bags of Jimmy Chips®, cookies, and Jumbo Kosher Jimmy Pickles®. You can even make it a combo with your choice of chips or a pickle and a drink!
At Jimmy John's, we deliver* sub sandwiches within 5 minutes** of our shops to make sure your food delivery always arrives Freaky Fresh®. We calculate how far we can get from the store in 5 minutes, and consider things like traffic, road patterns and speed limits. Then, we set boundaries around those points so we can deliver you a tasty sandwich!
We'll even deliver just one sandwich, so you can order tasty fresh-made subs for just yourself or for the whole crew without leaving the couch or office!
Order online or with the Jimmy John's app for quick and easy ordering. Always made with fresh-baked bread and hand-sliced meats and fresh veggies, we bring Freaky Fresh® sandwiches right to you, plus your favorite sides and drinks!
We are happy to provide a contactless delivery experience for our customers. Just select "Leave Delivery at Door" or give us special delivery instructions at checkout when ordering online or with our app.
Order online now from your local Jimmy John's at 1005 N Olive St for lunch or dinner sandwich delivery near you today!
*Delivery subject to availability; fees may apply. **Five minutes is not a guaranteed delivery time. Actual delivery times will vary.
Delivery FAQs
What is the delivery minimum?
Just one sandwich!
How much is Jimmy John's delivery?
Prices vary from location to location, give your local shop a call for delivery fees.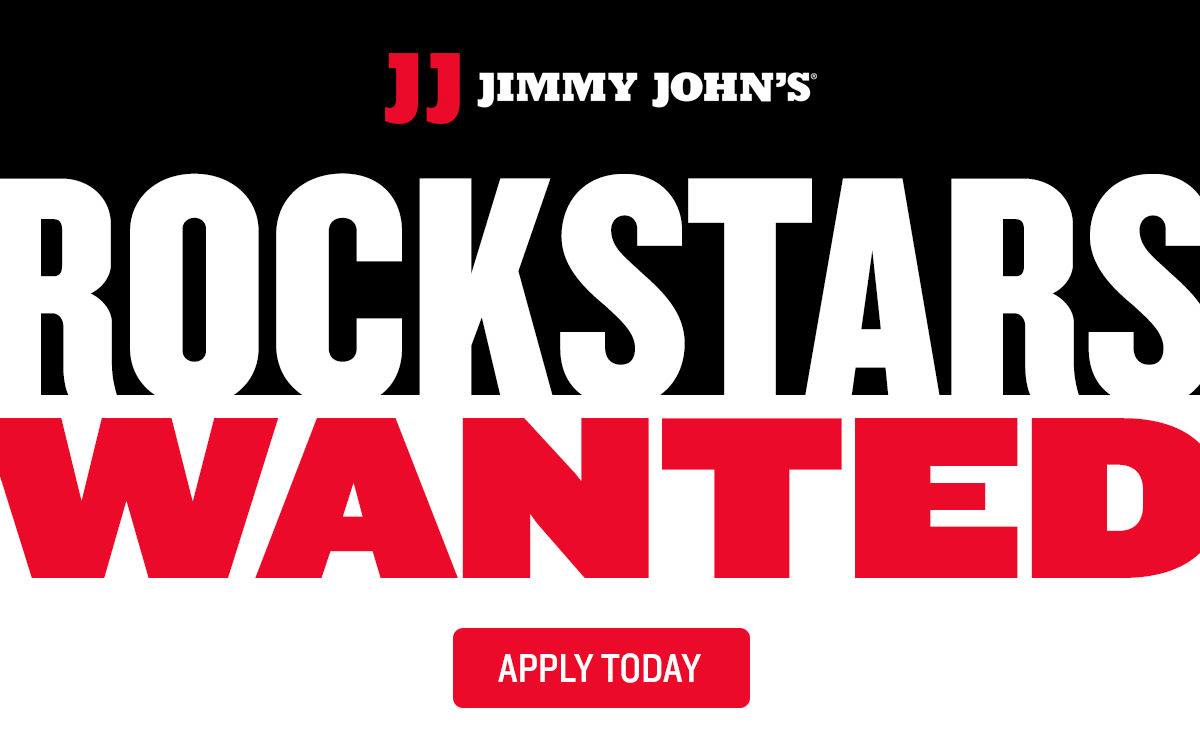 Other Locations Nearby
1400 Washington Square
Washington, MO 63090
Directions
14 Hilltop Village Center Dr
Eureka, MO 63025
Directions
There are no locations in your search area. Please try a different search area.
Jimmy John's FAQ
Is 1005 N Olive St Jimmy John's still open during COVID-19?
Yes, Jimmy John's is open and offers delivery, pickup, curbside pickup and drive-thru at participating locations.
Where is a Jimmy John's location near me?
Visit your local Jimmy John's at 1005 N Olive St in Sullivan.
Does 1005 N Olive St Jimmy John's offer delivery options?
Yes, Jimmy John's offers contactless delivery options to those within our delivery areas.
What is the most popular Jimmy John's sandwich?
What are the rewards for Jimmy Johns?
Jimmy John's Freaky Fast Rewards® program offers a variety of rewards, from Free Sandwiches to Free Drinks. Sign up for Freaky Fast Reward®s now to earn a free sandwich after your first order as a member!
How does Jimmy John's Order Ahead option work?
Place an order via the Jimmy John's app or the Jimmy John's website to order for delivery or pick up from your local Jimmy John's.
How do I get a free sandwich from Jimmy Johns?
Earn a free sandwich after your first order with Freaky Fast Rewards®! Once you sign up and start earning, you can also earn surprise rewards for more sandwiches, sides, or drinks!
Does Jimmy John's have a kid's menu?
What is Jimmy John's Unwich?
Our Unwich® is a carb-friendly option for any of our sandwiches. Order your favorite sandwich as an Unwich® and we'll replace the bread with a tasty lettuce wrap.
Does Jimmy John's at 1005 N Olive St in Sullivan have an indoor seating area?
Yes, your local Jimmy John's does have an indoor seating area.
Skip link