Sandwich Delivery in Centerville for Lunch or Dinner
382 N Frontage Rd Ste. B
Centerville, UT 84014
Directions
Location Hours
---
Tuesday
11:00am

-

10:00pm
Wednesday
11:00am

-

10:00pm
Thursday
11:00am

-

10:00pm
Saturday
11:00am

-

10:00pm
Drive Thru Hours
---
Tuesday
11:00am

-

10:00pm
Wednesday
11:00am

-

10:00pm
Thursday
11:00am

-

10:00pm
Saturday
11:00am

-

10:00pm
Delivery Hours
---
Tuesday
11:00am

-

10:00pm
Wednesday
11:00am

-

10:00pm
Thursday
11:00am

-

10:00pm
Saturday
11:00am

-

10:00pm
Skip link
Jimmy John's in Centerville
Jimmy John's in Centerville makes Freaky Fast Freaky Fresh
®
sandwiches near you using only the freshest ingredients. Stop by and order delivery or pick up from our location in Centerville for a tasty sandwich today! Whether you're in-store or in a delivery zone, we'll always make you a tasty sandwich!
Freaky Fresh® Ingredients
Quality is our way of life. That's why the Centerville Jimmy John's Rockstars spend six hours slicing and baking every day to make tasty sandwiches in just 30 seconds or less.
Our French bread and 9-Grain wheat bread is baked all day, every day. Its' always served less than four hours out of the oven. You can also make your favorite sandwich in an Unwich
®
lettuce wrap!
We use all-natural*, high-quality meats, and we slice and weigh each portion to perfection daily. Our veggies are locally purchased, delivered fresh to Centerville Jimmy John's stores, and hand-sliced daily. We puree our hot cherry peppers into fresh buttermilk to make Kickin' Ranch, and our homemade tuna salad is made from scratch. Fresh food made from scratch is just how we roll.
The flavor of a ripe tomato and crisp shredded lettuce, combined with fresh-baked bread, fresh-sliced meat and real Hellmann's
®
mayo—that's when the magic happens. Sandwiches made with love every single day, since 1983.
Jimmy John's® - 382 N Frontage Rd, Centerville
If you need sandwich delivery, your Centerville Jimmy John's has you covered. We'll even deliver one sandwich.
Just place an online order, or order through the Jimmy John's app and we'll bring it to ya. We also offer last-minute catering for any occasion: Mini Jimmy
®
, box lunches, party boxes and tasty sides. Whether you need catering delivered or delivered and set up by us- you name it, we'll do it!
If you'd rather pick-up your sandwich, you can order ahead online or with the Jimmy John's app.
Support your local, independently owned Centerville Jimmy John's today! Stop by or order online at JimmyJohns.com
*All-natural: except for caramel color on roast beef. Minimally processed and no artificial ingredients. Excluding limited time offerings. See
www.jimmyjohns.com
for details.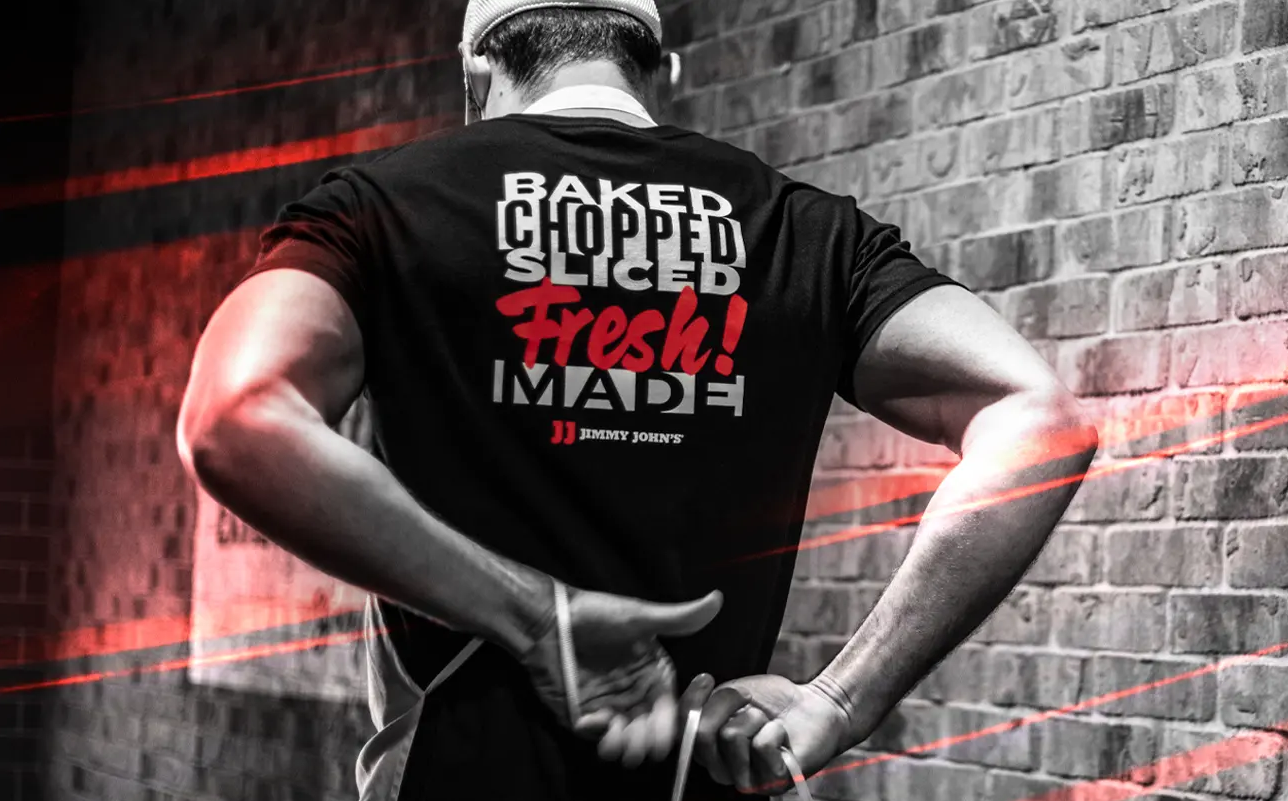 Other Locations Nearby
175 N. 500 West, Ste D
Bountiful, UT 84010
Directions
283 N Flint St
Suite 501
Kaysville, UT 84037
Directions
14 East Broadway
Salt Lake City, UT 84111
Directions
There are no locations in your search area. Please try a different search area.
Is 382 N Frontage Rd Jimmy John's still open during COVID-19?
Yes, Jimmy John's is open and offers delivery, pickup, curbside pickup and drive-thru at participating locations.
Where is a Jimmy John's location near me?
Visit your local Jimmy John's at 382 N Frontage Rd in Centerville.
Does 382 N Frontage Rd Jimmy John's offer delivery options?
Yes, Jimmy John's offers contactless delivery options to those within our delivery areas.
What is the most popular Jimmy John's sandwich?
What are the rewards for Jimmy Johns?
Jimmy John's Freaky Fast Rewards® program offers a variety of rewards, from Free Sandwiches to Free Drinks. Sign up for Freaky Fast Reward®s now to earn a free sandwich after your first order as a member!
How does Jimmy John's Order Ahead option work?
Place an order via the Jimmy John's app or the Jimmy John's website to order for delivery or pick up from your local Jimmy John's.
How do I get a free sandwich from Jimmy Johns?
Earn a free sandwich after your first order with Freaky Fast Rewards®! Once you sign up and start earning, you can also earn surprise rewards for more sandwiches, sides, or drinks!
Does Jimmy John's have a kid's menu?
What is Jimmy John's Unwich?
Our Unwich® is a carb-friendly option for any of our sandwiches. Order your favorite sandwich as an Unwich® and we'll replace the bread with a tasty lettuce wrap.
What is the delivery minimum?
How much is Jimmy John's delivery?
Prices vary from location to location, give your local shop a call for delivery fees.
Does Jimmy John's at 382 N Frontage Rd in Centerville have an indoor seating area?
Yes, your local Jimmy John's does have an indoor seating area.
Skip link